JOURNAL ROOM
Dear Ed.,
sometimes it's hard to put your finger on exactly what you're looking for. You'll know it when you see it. But the clock is always ticking, and you just don't have that kind of time to play with.
Have a quick rummage around though in the journal room, and you'll find a writer at work who is equally adept at profiling celebrities, covering current affairs (same difference sometimes!) and taking readers on adventures.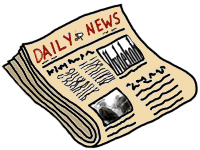 Published across mainstream press, David Young provides the Post House library with a range of writing that investigates the curious corners of our social and political behaviours, as well as tapping into the human condition…foibles and all.
You can readily sample real articles here – taken from the Irish Independent, the Sunday Independent, the Irish Examiner and Tatler magazines. Just let them take you back-packing on an ancient pilgrimage; jousting with social etiquette, and unravelling election-time illusions. To boot, be enthralled by a sporting icon's humility.
And of course, know that you can commission David to provide your publication with any genre of article, knowing you'll get what you asked for (and then some). And most importantly – turned around in no time!
Now what was it you were chasing again?