MEDIA SUITE
Intelligent correspondence
in the public domain is critical when it comes to creating and maintaining your business identity. Sounds heavy. In other words, you simply have to get your website, newsletter and brochure content right!
And that's before considering what you're doing with the ever-growing range of social media outlets. You may have put it on the long finger. That's ok. We're all human. But keep in mind how your image is being transmitted through these portals.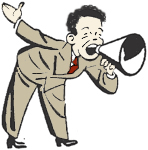 Then trust us. It always proves best to have an experienced penman to hand when trying to whittle your communications into memorable missives. At the Post House, you'll work collaboratively with a professional journalist on how to present your enterprise and essentially shape your public persona.
While contemplating all that, consider too that you can avail of personalised communications training and mentoring here – to hone both your spoken and written skills. Fear not, it won't be X-Factor feedback you'll get but honest, constructive advice as to how to pare down what you really want your audience to hear, and remember.
So, be you a small or medium-sized enterprise, or a positively monolithic entity, check out the adjoining samples of work to see just how the Post House consultancy determines the right words are sent out to bat on your behalf.
And contact us when you're ready.